High molecular weight synthetic resin is the main component, adding appropriate additives, such as plasticizers, stabilizers, flame retardants, lubricants, colorants, etc., Machined plastic (flexible) materials, or cured and cross-linked. Rigid material, mainly composed of carbon, oxygen, hydrogen and nitrogen and other organic or inorganic elements, the finished product is solid, and it is a molten liquid during the manufacturing process, so it can be melted by machine heating, pressured to flow, and cooled It is cured and formed into various shapes. This large and varied group of materials is called plastics. With the rapid development of the plastic industry and the continuous improvement of plastic performance, plastic parts have been more widely used. Plastic parts are replacing traditional metal parts in different fields. A properly designed plastic part can often replace multiple traditional metal parts. , so as to simplify the product structure and save manufacturing costs.
Plastic parts are widely used in every field of life today, such as household appliances, instruments, wires and cables, construction equipment, communication electronics, automotive industry, aerospace, daily hardware Wait. There are many ways to produce high-precision plastic parts. Modern industrial grade plastics are cast, injection molded, printed or machined. The first three options are ideal for manufacturing complex geometry parts with excellent surface finishes. But when you need to achieve tight tolerances or produce a mirror-like surface finish on almost any type of part, nothing beats machining. The precision requirements of modern industry for parts of all possible materials are constantly increasing. This is the reason why CNC plastic machining technology was developed. Now, it occupies a considerable place in high precision, small batch production and prototype manufacturing of plastic parts. Whether you need any plastic prototyping or custom parts, fused complex assemblies, or finishing and polishing services for low volume production, BE-CU.COM can provide advanced CNC prototyping services as well as high temperature and high strength plastic machining materials.
Plastic CNC Machining Services – Plastic Precision Machining
---
At BE-CU Plastic machining shop, we take pride in our state-of-the-art CNC Plastic machining services and our specialized routing equipment, which allows us to deliver high-quality cnc machining Plastic components machined to our clients' standards.
Plastic machining is the main way of making prototypes, include pei,teflon,abs,peek,uhmw,PC,ceramics,pvdf,upe,PPS,PA66,PMMA,POM and other plastic materials into physical samples we need. The plastic prototype samples machined by CNC have the advantages of large size, high strength, good toughness and low cost, and have become the mainstream of rapid prototype and plastic parts production.
Be-cu.com offers a state-of-the-art CNC plastic machining service, guaranteeing consistent quality and fast turnaround times. With over 75 plastic milling and plastic turning machines at our disposal via our in-housing networks, we can provide consistent capacity and competitive pricing. Our network of manufacturers allows us to fulfill low volume orders of CNC plastic parts and handle more complex CNC machining jobs. With us you can produce complex orders for prototypes as well as low volume CNC production runs in a wide variety of plastics and surface finish options. Work with us to access our vast CNC plastic machining services today.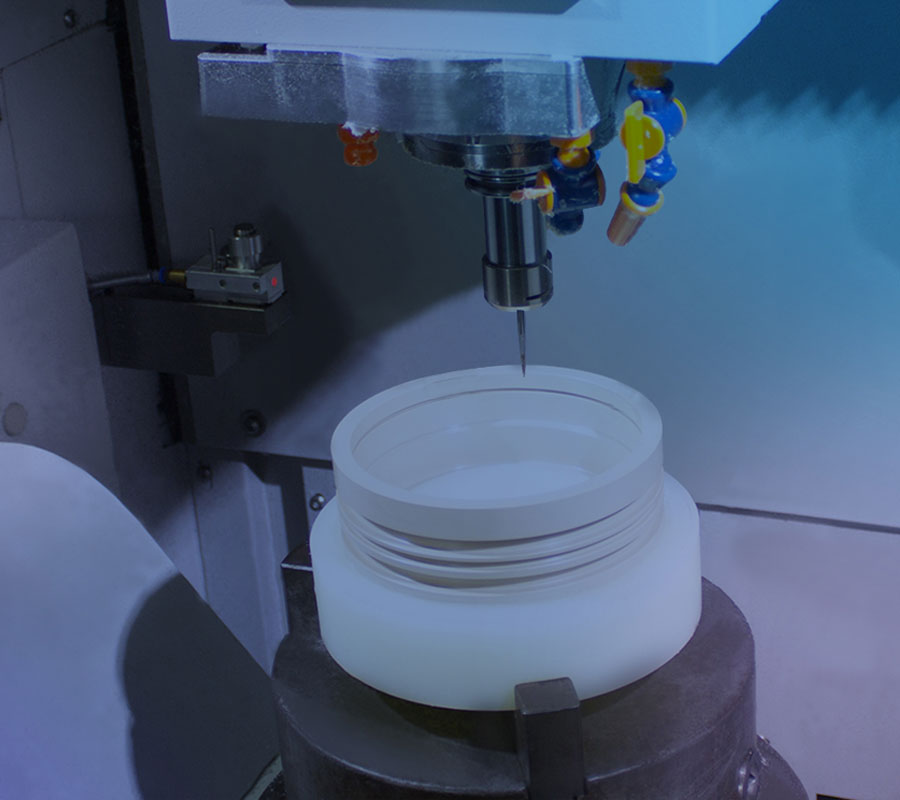 Plastic CNC Milling – 5 Axis Milling Plastic
---
CNC Plastic milling involves removing portions of plastics from a raw block or sheet of plastics with a cutting tool mounted to a spindle rotating at high speeds. The cutting tool can be interchanged for ones of different sizes depending on the thickness of material or the complexity of the design. The pre-cut metal is secured to a work table which can rotate at different axes of motion to allow the tool to cut the plastic at many different angles. The final result is a product of an iterative cutting process whereby small pieces of material are precisely removed, step by step, until only the desired part remains.
Plastic CNC Turning – Precision Turning
---
CNC turning holds a cylindrical plastic workpiece in a chuck and rotated, while the cutting tool is fed to the piece and removing plastics to get the desired CNC turned plastic components, leaving an excellent surface finish that sometimes requires no post-processing. Our advanced CNC turning center routinely works with a wide variety of plastic materials, ranging from peek, teflon, abs, carbon steel, uhmw, and more. We can always choose a suitable precision turning process to reach your requirements. Our custom CNC machining services ensure that our customers receive the highest quality CNC turned parts. Send your inquiry or drawing fast to get an online CNC quote.
Why Choose CNC Machining Services For Plastic Prototype Parts Manufacturing?
---
Check the appearance design: The prototype is not only visible, but also touchable. It can directly reflect the designer's creativity in the form of real objects, avoiding the drawbacks that the product looks good when drawn and not good when it is made. Therefore, prototyping is essential in the process of new product development and product shape scrutiny.
Check the structural design: Because the prototype can be assembled, it can intuitively reflect the rationality of the structure and the difficulty of installation. It is convenient to detect and solve problems early.
Avoid the risk of directly opening the mold: Since the cost of mold manufacturing is generally high, the larger mold is worth hundreds of thousands or even millions. If the structure is unreasonable or other problems are found in the process of opening the mold, the loss can be Imagine. Prototype production can avoid this loss and reduce the risk of mold opening.
Make the product launch time much earlier: Due to the advanced nature of prototype production, you can use the prototype for product promotion before the mold is developed, and even pre-sales and production preparations to occupy the market as soon as possible.
Why Choose Our Plastic Cnc Machining Service?
---
Save time and money for your Plastic project but quality guaranteed.
High productivity, outstanding efficiency and high accuracy
A wide range of plastic grades materials can be CNC machined
Custom complex plastic machining parts and components at specific tolerances
High speed machining for prototyping and low to high volume production runs
Certifications & Quality Machining
---
ISO 9001:2015 certified
Fully compliant with the exacting requirements of our customers
Compliance in DFARS materials sourcing requirements
Strict compliance with PPAP and Process
FMEA for automotive customers
Skilled in KanBan and CMM Inspection and inventory management systems
ITAF 16949 certified
The Plastic Material Of Precision Cnc Machining
---
Plastic material can be easily machined and have a low raw material cost, making them often the most economical choice for prototyping and cnc machined plastic parts.There are a few factors to consider when choosing the right plastic for CNC machining. The plastic you choose is critical to your ultimate success. For example, plastics may need to withstand high temperatures or bend or break under pressure. When choosing the right plastic, corrosion resistance, machinability, price, weight and visual appearance all play a role.
Top China Plastic Cnc Machining Parts & Case Studies
---
Cnc Machining processes such as cnc milling, turning and swiss machining are today considered the most economic way to make plastic prototypes. Sometimes, however, certain non-machiningable materials are needed, and sometimes 3d printing is the only option. Our company has rich experience making plastic concept models and precise functional components. Understanding the properties of different plastics material, with lots of testing and experimentation with pre-heating, tool paths and other factors, we are able to minimize deformation on plastics material. Be-cu prototyping company provides a range of solutions for the machining of plastic parts.
The Methods Of Plastic CNC Machining
---